Office automation has led to the development and emergence of the virtual office concept. A virtual office works just like a physical office but lacks physical space. A virtual office is part of the flexible workspace industry that provides assistance to the demands of evolution in the way we work today.
Virtual offices can provide various benefits to companies based on their businesses, here are 13 key benefits of having a virtual office.
1. When Address Matters:
Virtual offices provide professional mailing addresses. By signing up for a Virtual Office, you create a physical office without being tied down by lease obligation. Virtual offices give out the appearance of working at a physical office location, even if not in reality, along with a physical address for correspondence.
2. Phone and Mailing Services:
Having a reputable business address with a virtual office gives your brand a professional, and legitimate business image. In a virtual office, it is easy to pursue a professional virtual environment by having a telephone number, fax service, voicemail boxes, and also a virtual voice to handle incoming calls without the need to hire a receptionist.
Businesses can derive additional benefits from virtual offices like reduction of human intervention and minimized cost. The use of a physical business address and an official phone number on your business cards, website, and email increases trust among prospects and clients, as opposed to seeing a mobile number and home address. Your business is made more approachable as it increases your professionalism and credibility by the very look of it.
3. Privilege of Work Flexibility:
Flexibility at work makes employees more active and interested in working. The freedom given to employees to log in at their convenience and even work during mobility or with their mobile phones is seen as a special privilege endowed by the company. Thus, there is a positive shift that is noticed in the attitudes of the employees and this is seen as an advantage of virtual offices.
4. Cost-Effectiveness:
No more thinking about office lease, hardware, and all the other costs that are associated with renting a physical office space. Cost-effectiveness is one of the biggest plus points of choosing a Virtual Office in Chennai. Real-time offices cost huge amounts in many aspects.
The need to rent or lease the commercial spaces, pay for utilities, buy necessary furniture, equipment, and tech. Opting for virtual offices gives you the advantage of cutting down on these costs which can be used to invest in future business expansion.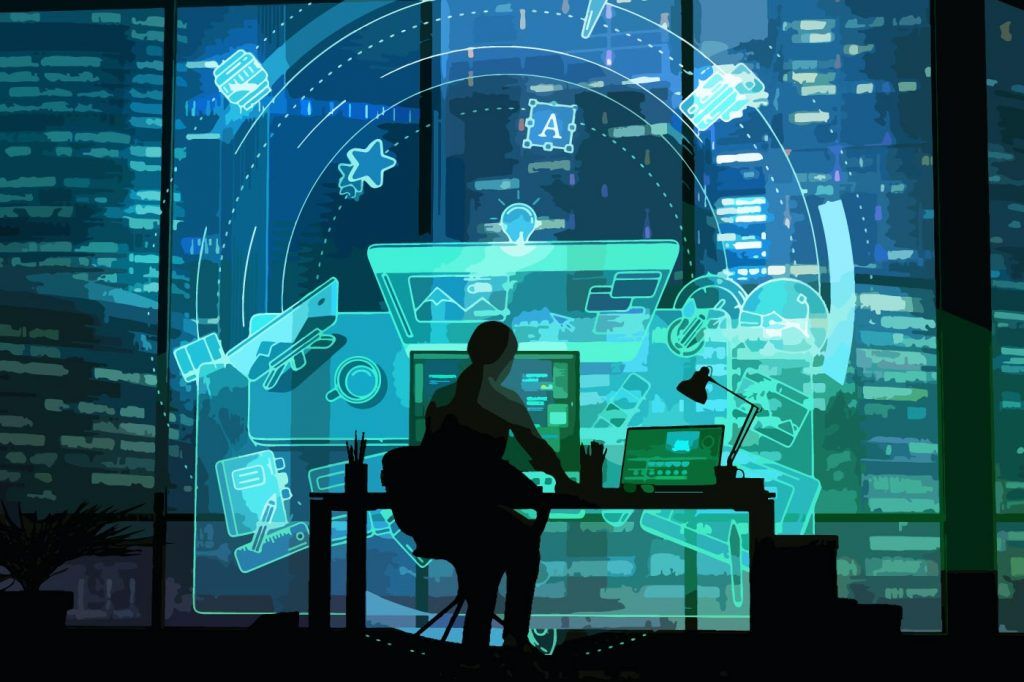 5. No Contract, More Flexible Terms:
Unlike traditional office spaces, most providers of Coworking Space in Chennai offer the option of a virtual office to their members on a monthly basis. That gives you the flexibility to opt-out whenever needed as there is no need for a contract for virtual offices. 
Being bound by contracts will become a disadvantage when your company is required to grow or cut down on costs. You will be required to pay the rent or lease amount until the conclusion of the contract or pay the penalty as per the initial agreement.
6. No Hassle in Setting up Office:
Coworking space providers usually offer a variety of sets and combinations of services to choose from. With this wide variety of membership plans to select from, you're ensuring that you save costs by only paying for what is needed for your company at that given moment.
Virtual offices can be easy to set up and similarly easy to shut down when required. There is no additional cost to this choice. Virtual offices in Chennai are usually great for start-ups and freelancers, it gives them freedom and flexibility alongside an address for business correspondence.
"Read also: https://www.theexecutivezone.in/effective-remote-team/"
7. Excellent Business Support:
Virtual offices come with a number of extra features to support your business, giving you the ability and leeway to concentrate solely on your business. No more time-consuming tasks like handling calls and posts, as most virtual office providers take care of this part for you. Add-on facilities such as co-work spaces and meeting rooms are available and can be used whenever needed to ensure your business succeeds.
8. Well Maintained Work-Life Balance:
Work-life balance validates your choice of picking a virtual office over a conventional office. As your business grows, it becomes more important that you and your employees maintain a healthy work-life balance. The benefits of going in for a virtual office are that it allows everyone to work efficiently from their safe space, which in turn reduces stress levels and sets aside time to spend with family and friends.
9. Easy Expansion and Relocation:
The virtual office concept allows you to expand your business without the need to move rent or lease out a larger office. It is known to be a lower cost and stress-free alternative to traditional expansion which requires relocating and greater expenses to set up.
We find that many Coworking Space in Chennai offer virtual offices, as space is not a limiting factor. Growing one's business can use an address to establish a presence in a new location, while also having multiple offices around the country while testing out the market there without the additional cost of relocating to that area.
10. No More Stressful Commute:
Are you aware that 25% of knowledge workers find their commute to be one of the most stressful parts of their job? Recent trend shows that most employees prefer to work from home even if it is at a lower salary, as it reduces their commute time, reduces the cost of conveyance, and, most importantly, it provides them comfort.
Hence, the benefits of virtual offices are known to favour both employees and employers in a positive manner. By working remotely, it is seen to increase productivity at work, use the extra time to tap into your hobbies or even get some sleep.
11. Access to Limitless Global Talent:
When working from anywhere there is no restriction on hiring talent within the limits of your office. Virtual offices allow you to hire excellent talent regardless of their location. From a hiring perspective, you can hire more talent without needing to relocate and expand to bigger premises. This exposes you to a larger talent pool to help with hiring the best talent and help your business grow.
It is known that 74% of knowledge workers would be willing to quit a job to work remotely, so by offering the option to work from home with the help of virtual offices, you're improving the attractiveness of your company and the job with the candidates.
"Read also: https://www.theexecutivezone.in/keep-up-with-the-changes-in-the-world-today-opt-for-a-virtual-office/"
12. Guaranteed Productivity and Satisfaction:
Virtual office solutions are excellent at enhancing satisfaction among employees. This is because they are given the chance to work from home, save money and time on the commute, and ultimately result in them having more freedom and a better work-life balance.
Virtual offices also depict an increase in productivity as employees are allowed to work in a much-relaxed environment where they are committed to working as there are fewer distractions. Working from the comfort of one's home increases productivity and efficiency, as happier employees work better.
It improves concentration at work, and so, even if the employee works for a limited number of hours, their focus and productivity show improvement, resulting in both the company and the employee benefiting in monetary terms.
13. Good Health and Overall Wellness:
As earlier mentioned, the benefit of saving more time and cash by eliminating your commute to work is offered by virtual offices. You can save and direct some of that extra time into increasing your health by fitting in a time for a workout within your daily schedule, meditating, preparing a nice home-cooked meal, or even all three!
The Executive Zone is a provider of Coworking space in Chennai and has enormous benefits to offer entrepreneurs, freelancers, and businesses looking to expand or relocate. It offers splendid services and a professional office address fit for any business looking to grow.