It looks like there's little left in the world that isn't requested. From carpooling to grocery delivery, on-demand assistance is available for nearly every aspect of our lives. That on-demand fact even extends to Intelligent Office services, where business leaders can reap the gains of our premium business locations, amenities, and workers. Throughout the recent decade, nearly all the methods we do business have been modified. Corporate desks have been interchanged with shared workspaces and work-anywhere situations. Suits and ties have ceded to casual wear that's cozy yet professional. Phone calls have been swapped with text messages and emails. An on-demand working space is place of business that is available when a business need for it. But these workspaces don't require a permanent presence from the business. For countless small businesses, this presents the best of both worlds for a range of reasons. Companies need a firm, reliable meeting space to carry out training, and when your current workspace doesn't enable it, the on-demand conference space is padding the gap. Meeting clients or coworkers at a coffee shop or a 5 star hotel creates a relaxing environment to talk business. With on-demand meeting spaces, you have the efficiency to reserve a fully furnished room with available conference equipment and catering services.
Let's have a look at some of the benefits of on-demand meeting rooms:
Cost Effective:
Possessing your own meeting room means you get to benefit from it anytime you want, but this convenience comes with a price. Your own meeting room usually means you have your own office and the expensive overhead and livelihood that come with it. Meeting room in a coworking space gives you on-demand access to a conference room, meeting room or a business lounge when you need it for a minimal cost each time. You're dividing the cost of the room with other companies instead of paying for your own room even when you're no use of it, helping to keep overhead down.
Read also: "benefits of meeting rooms with co-working space"
Flexible:
A coworking space usually has many meeting rooms and conference rooms. You can choose whatever you like as per your requirements. Shared conference rooms can be outfitted to your precise needs at scale. Whether you want five chairs or fifteen chairs, A/V equipment or additional lighting, the cost remains very same.
Tailored Service:
Companies that need a local meeting room usually turn to a local hotel. Hotels do have conference spaces for rent, but their services are usually tailored for large-scale events. If you just need a meeting table for a few people, you likely won't get any extra services with your room rental. In a shared workspace, conference room rentals are geared toward on-demand business needs. Whether you're leasing a desk or a whole conference room, you get a devoted customer service rep that will manage all the specifics of your training conference for you. Plus, you may have optional amenities like a coffee bar or snacks to enhance your meeting.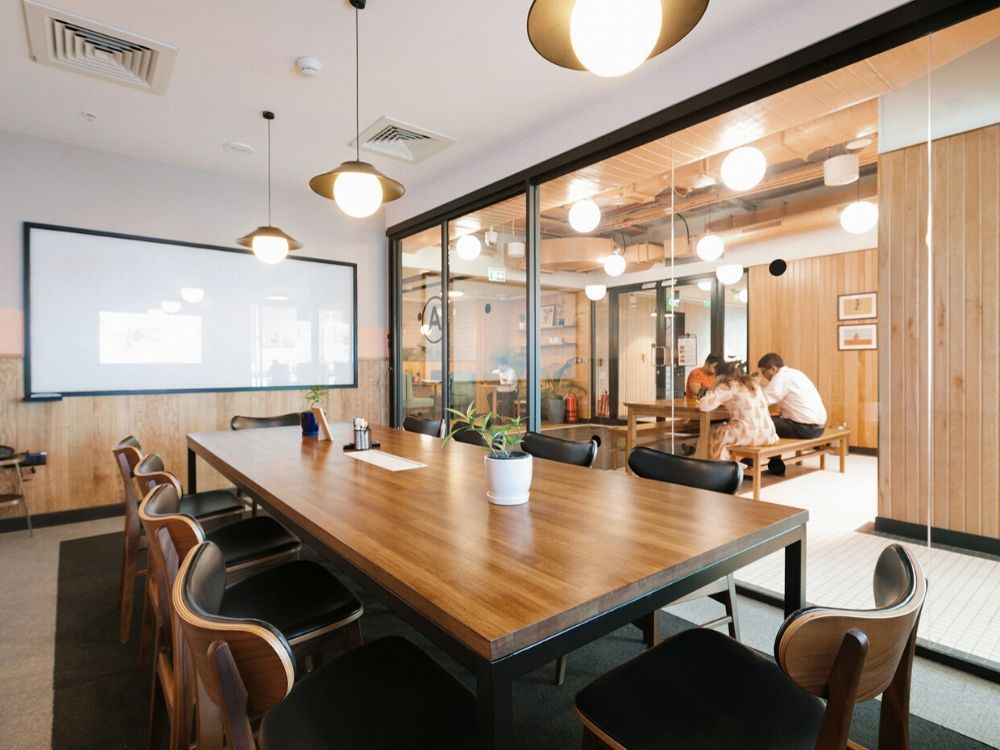 Well Furnished:
Even with a convenient reservation system, you plan for a meeting space that requires little setup and breakdown of equipment as possible. You just want to show up and have the meeting room ready to go. To make your work life simple, on-demand meeting spaces are equipped and available for presentations. Shared office space provides comfortable office chairs, a large conference desk with built-in outlets, and an LED HDTV. These meeting spaces are well-equipped for your meetings and presentations.
Demand-based meeting spaces are an excellent choice to fit your budget and plan. With presentation-ready rooms and available food services, these meeting spaces are all set to impress your clients and coworkers at your coming meeting.