The COVID-19 pandemic forced an unexpected shift to remote working in one of the biggest global experiments in the history of work. Workplaces throughout the world are undergoing an intense transformation. Organizations are reevaluating work models to resume pre-pandemic operations. Many businesses are dovetailing to go back to the office but are faced with a similar situation. Not all wants to go back to the office. Managers and company leaders are having to face the need of creating a hybrid office of both traditional workers and remote workers. Employers are ripping up the rule book on how, where and when people work and trying out something called 'hybrid working'. It's a transform that is gathering momentum. A current survey found 75% of workers imagine that 'hybrid work' will be standard in their companies during three years.
Today's hybrid office comes with a fresh set of employee concerns along with a new set of hopes they have of employers. During the shutdowns, people saw that along with preventing exposure to COVID-19, almost all of them did not get colds or the flu as they generally did each year. Several employees have taken note of this and have some level of inconvenience about working in enclosed spaces with big groups of people. Add to that the reality that in-office employees today crave distraction-free quiet spaces where they can do more strongly focused work like what they had in the WFH Circumstances during the shutdowns. They are also riding the adoption of touchless workplace technologies and the origination of outdoor workspaces to use when uniting with teams. To keep employees highly occupied with their company and their work, employers can permit for the office to become a true mixed environment. They must work out programming so that teams can work equally from home and from the office at any time. Work policies must be modified to accommodate flex scheduling as well as how work will be done. Open and available schedule software platforms should show team members who may be on thesis or working from home. Workflows must be more sessions adapted to authorize employees to do their jobs no matter of location or time of day. That should be minimized, while leveraging unsynchronized forms of communication along with devoted slack channels and virtual project boards. Mobile technologies should be employed to enhance productivity as a single allied experience regardless of the place of the employee or their team members.
Read also: "Choosing a New Office Space? We're here to Guide you!"
A hybrid office is designed to back both in-person collaboration and remote work. Unlike a sharp work environment, which makes it simple for employees to choose from various types of spaces while they're in the office, a hybrid office accepts employees will be shifting more frequently between home and the office. Hybrid work environments also benefit the employees that simply do not have an appropriate workspace at home or find it very hard to work with distractions and duties that demand their attention. It should make it effortless for employees to meet with team members whether they're face to face or functioning remotely.
Elements of a Hybrid Office Include:
A blend of collaborative and private rooms.
All-purpose areas employees can use relying on the work they're doing.
Furniture that's easy to reconfigure.
High-quality conference room technology.
Technology that makes it smooth for employees to find and book workspaces anywhere.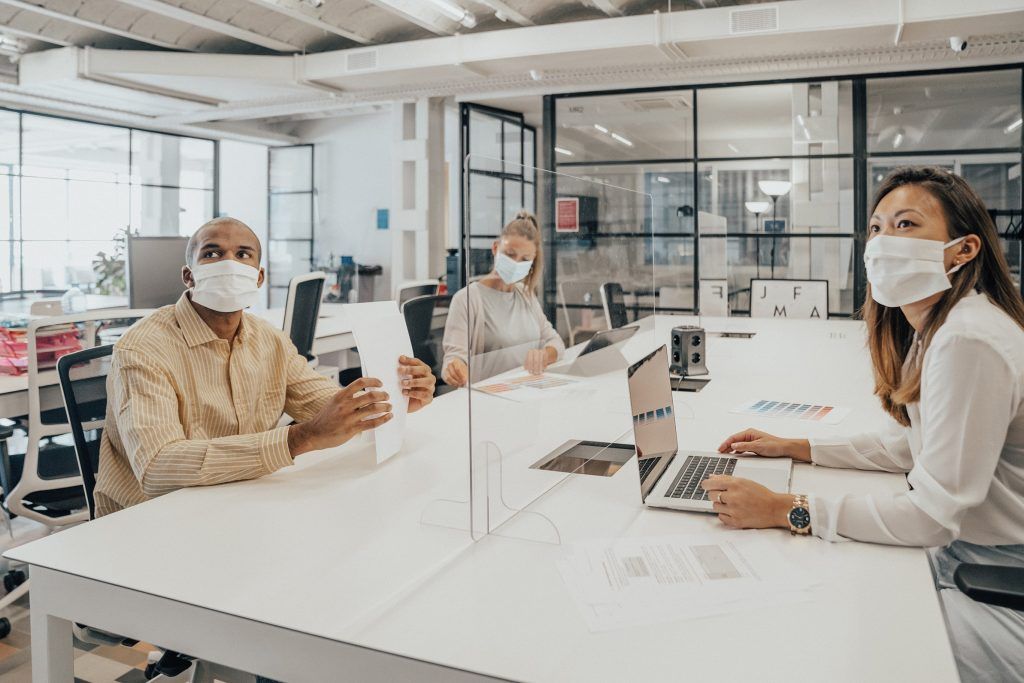 Some Benefits of Hybrid Offices:
Studies signal that the benefits surpass the negatives for both employers and employees:
Productivity increases. Telecommuters have minimal social distractions and take extra breaks which keeps them regenerated and motivated.
Lower stress levels. Statistics show that people who telework, even every month, are happier and below stressed.
Cost savings. Both employers and employees cut costs by working remotely even twice less the time. Remote workers save on traveling costs while businesses save on supplies and other outlay.
Reduced employee turnover. Companies who offer flexible work arrangements see a 25% lower employee turnover.
There is still dubiety around the future of work life, but the office outlook has certainly been permanently changed. Office life that once existed is lost – there will be no closer packed, open-plan office spaces. The big offices will keep the hub, but it's extremely improbable that organizations will be asking all their employees to return in full capacity. The future could see shorter, satellite offices beginning outside of the downtown city municipalities. Having small teams of employees work in the office on events can preserve company culture and comradeship that can't necessarily be obtained via video calls. Finally, the future workplace is a mix of remote and in-office, and technology is the clue to keeping employees linked and workflow going smoothly. Digital transformation is the step ahead.