Large organizations are increasingly recognizing the benefits of coworking space. Employees of tech giants are using them to communicate with innovative start-ups and create new networking opportunities. Having peers who are on the same path as you might help with creativity and productivity. The increasing number of large firms moving into coworking spaces is a new trend.
Coworking spaces foster creativity and cooperation by allowing workers to share items like fast internet, printing equipment, workstations, and kitchen facilities with others from all over the world. Coworking space is now being embraced by major worldwide corporations, who prefer it to the typical office environment. They have compelling reasons to make the change. While coworking spaces were originally the property of freelancers, small firms, and start-ups, the business world is constantly changing.
The world's largest corporations have set up shop in coworking spaces in pursuit of new ideas, brilliant employees, acquisition targets, and flexible office space rental and management circumstances. A flexible workspace boosts employee morale while increasing efficiency and productivity. Employees at a coworking space choose to come to work rather than being compelled to. They flourish in such environments.
Here are some of the benefits of working in a coworking space. A successful coworking space must also have a varied community with a diversity of firms and individuals representing a wide range of industries. The business community atmosphere offers opportunities for networking with like-minded professionals. Coworking spaces not only offer real estate solutions and hassle-free management, but they also provide a great event venue for members to take advantage of business prospects. Because there are so many different companies sitting next to each other, conversations are smooth and collaborations are plentiful. Coworking space is great for startup businesses searching for a professional office without the large upfront fees or long-term commitment from a cash flow standpoint. These are some basic benefits of coworking spaces for startups. A growing startup business may benefit from the flexibility of plug-and-play office space.
A coworking space's setting is designed to promote creativity and more. Medium-sized businesses saved a lot of money on flexible, 'amenity-packed,' and significantly lower coworking space rentals since they had a lot more capital. Coworking spaces not only provide a location to work, but they also come with a number of benefits. There are workout areas, a Cafeteria, conference rooms, and a range of other amenities. With facilities close to support your lifestyle, you'll be able to better balance work and personal life. The goal of shared office spaces is to create a bright and energetic environment for the people who work there. Spaces are built with the goal of motivating and supporting an innovative environment while maintaining a positive attitude. An entrepreneur would constantly want to put his or her employees in a similar situation. Coworking space providers anticipate strong growth as demand for cost-effective and flexible workspaces grows. The majority of industry professionals believe that the coworking space will witness a rebound in the near future and that it will have a good growth chance.
Now that major corporations have realized the benefits of a coworking office, the trend looks set to grow.  Here are 7 reasons why corporates are moving to Coworking space: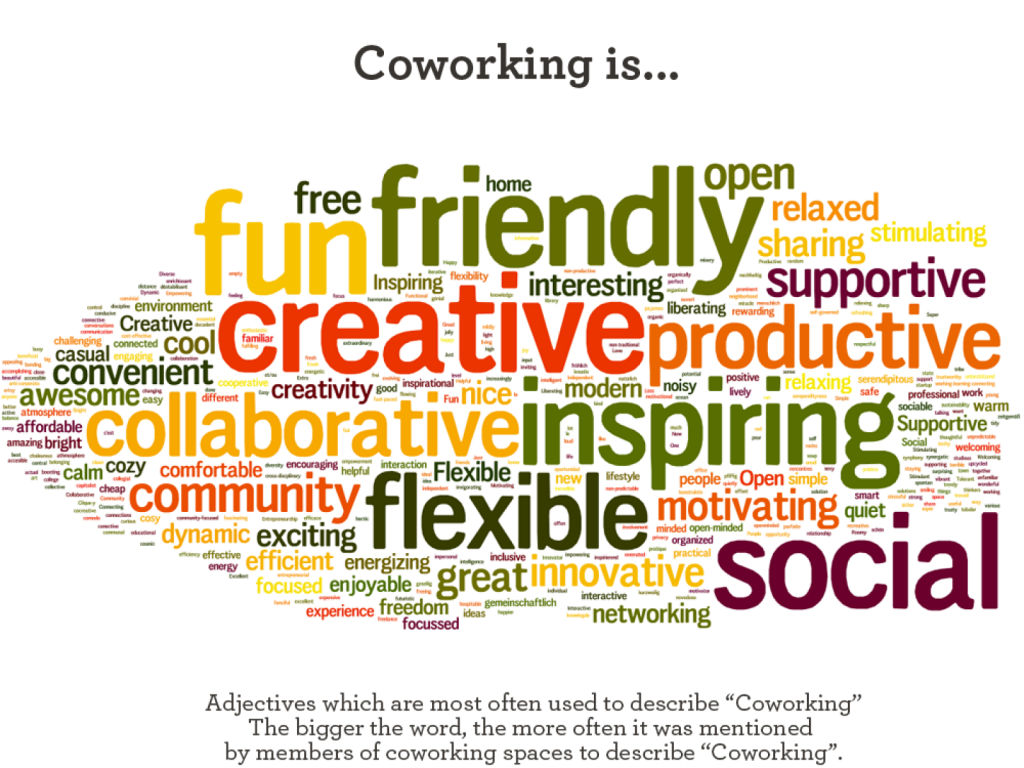 Value for money:
Coworking spaces are easy and uncontroversial at first glance. They're essentially fully furnished offices with desks, Wi-Fi, receptionists, and occasionally even free refreshments for remote workers from a variety of businesses who can rent these offices on a daily, weekly, or monthly basis. It essentially tries to replicate a real office setting for people who aren't forced to work in one. Everyone's needs are different. Start-ups require low-cost office space. MNCs are looking for high-end office space. These premium shared offices allow for multiple businesses to work side by side. This allows tenants to split rent costs and avoid costly upfront costs such as down payments.
Working in a coworking space also comes with perks like high-speed internet, electricity, 24-hour office access, daily cleaning, and more The payment for coworking space is done based on a monthly membership, the members pay according to their service in the space. Most coworking spaces, for example, offer "hot desks," dedicated desks, or private offices. A hot desk just ensures that the member will have access to a desk at the coworking space, however, the desk will most likely change from day to day.
Flexibility:
The global pandemic has already altered how we work and live, particularly in the tech industry. While traditional building blocks for office culture included in-person group meetings and team-building exercises, the expectations for what constitutes an "office culture" have been reimagined. Now that business owners in practically every industry are contemplating flexibility, the internet is saturated with remote work statistics. Employees benefit from flexibility because many larger companies that use coworking spaces provide their employees the option of working in a conventional office or in a coworking space.
Employees have the option of choosing the most convenient location. Employers who are truly flexible will allow their workers to work in the coworking space in the most convenient location, even if it is only for the day – for example if they have errands to run in the city or appointments in the region. They'll love having a shorter commute or being closer to their appointments.
Read also: "How Coworking Spaces Help Remote Companies & Workers"
Networking:
Aside from providing a flexible working environment and a pleasant environment in which to work, coworking spaces enable their members to meet and engage with new people every day, forming a coworking community. There are numerous advantages to networking. For entrepreneurs and new enterprises, building a strong and broad professional network among people with promise is critical. Nothing is more vital for businesses in today's society than networking or having a strong business network; regardless of your industry, whether you work for a large corporation or as a freelancer from home, getting your name out there is critical to a growing and successful business.
Advertising and networking have become nearly entirely digitized, whether through social media, emails, or websites. This online era makes it much easier for us to communicate with anyone on the globe, but it is also incredibly isolating and impersonal. Lone workers are more likely to suffer from emotional and health concerns as a direct result of isolation and loneliness, according to new research.
Shared office space is a new approach to a network that allows you to grow your business in a fun, exciting, and inspiring atmosphere with like-minded people. There's nothing else like it; being online is amazing, but you can't form the same bonds with people through a screen as you can when you're working side by side with them. Every day, serviced office space stimulates connection and networking, providing the ideal environment for conversation and the development of new ideas.
Professional Address:
Coworking spaces, like virtual office spaces, provide you with a more professional mailing address for your business as well as meeting and conference rooms. Coworking spaces are positioned in the heart of a city, accessible to public transportation and restaurants while also providing a convenient place for members to work. Working from a café or home as a business owner may not give the right impression to potential clients, so a coworking space provides not only a professional area but also dedicated conference rooms, cafeterias, and lounges to help you network more effectively.
Collaboration Opportunities:
This benefit is closely related to networking. You are open to chances and opportunities while you work in a coworking space. Who knows where a casual discussion could lead? Working in close proximity to others provides for rapid collaboration. You might even be hiring someone new before you know it. The coworking community's close closeness facilitates teamwork. When a problem arises, they just use the common areas to fix it rather than sending emails back and forth. More work is completed with more efficiency.
Collaborative workspaces bring people together in a shared space. As a result, they reduce the amount of physical space required to accommodate each employee individually. As a result, costs are reduced, available workspace is maximized, and greater floor space utilization is encouraged. Flexibility and variety of seating are critical when it comes to teamwork.
Collaboration is aided with large desks and tables, adjustable chairs, and standing/sitting alternatives. Productivity rises when collaborative workspaces are intended to be available for team use. Collaborative areas enable team members to work together simultaneously with practically no limits by integrating cloud-based whiteboard apps and productivity tools.
Coworking Spaces are Inspiring:
Coworking isn't for people who see the world through a glass-half-empty lens, questioning strangers' good intentions and even the tiniest hint of change or progress. In other words, coworking space requirements aren't for pyjama-clad living room warriors who prefer to turn off the video on Zoom calls and don't take advantage of their location-independent advantages. Instead, it's for the big-picture thinkers who always know there's more out there than what they're getting today.
Contractors, small-time entrepreneurs, and freelancers are increasingly used in the modern workplace to perform jobs that were previously performed in-house by large-company employees. Working on a contract basis, on the other hand, can be alienating.
Working for a remote company with team members spread across the country or even the globe is the same. Surrounding yourself with others who are in a similar circumstance can help you stay motivated. It's easy to feel like you're moving horizontally rather than vertically when there's no established and obvious corporate ladder to climb. Call me crazy, but watching other people succeed at what they do inspires me a lot more than isolating myself at home and getting FOMO from social media.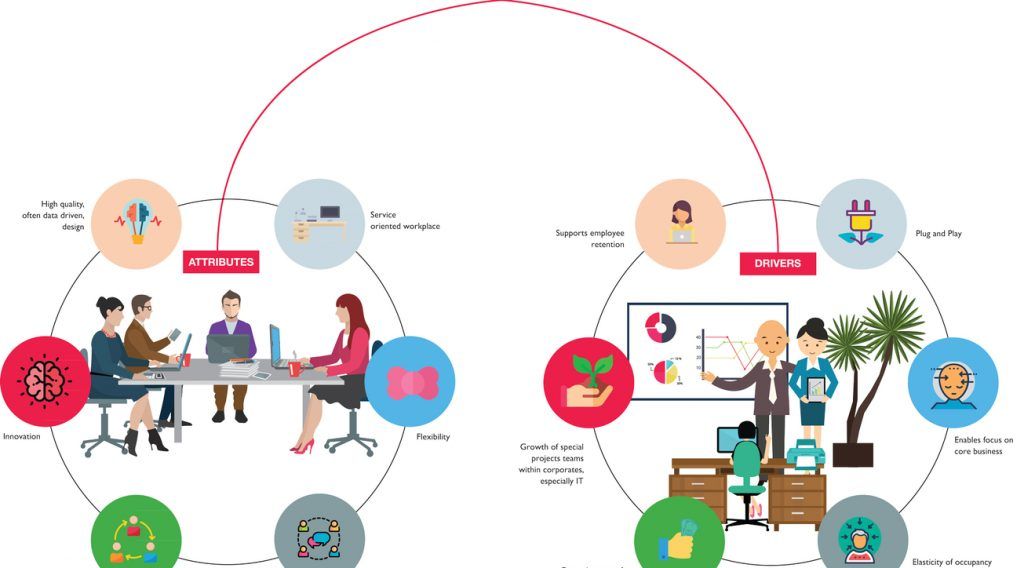 Coworking Represents the Future of Smart City Design:
The need to "drive to an office" is one of the main objections against coworking. People who make that argument seem like they're stuck in the 1990s suburbs when even the smallest desire meant a 15-minute trek up a six-lane "neighborhood road" to the next restaurant or strip mall. Coworking may not be the most convenient option for you depending on where you live, especially for those who reside outside of a city center. Nonetheless, in the suburbs and in smaller cities and towns, spaces are becoming more prevalent.
The coworking space's vision encompasses more than just coworking. It's because it just reflects a portion of what modern urbanism should be. You shouldn't have to commute to work for 40 minutes in rush hour traffic from the suburbs to the city center, and I admit that doing so as a remote worker defeats the purpose of remote work. Instead, you should be able to walk — or, better yet, ride your bike or take public transportation — to a coworking space (or wherever you work) that is within walking distance of your home, hotel, Airbnb, or, dare we say, coliving space. This has an undeniable air of privilege about it.
However, as the future of work continues to shift more jobs to remote locations, market demand for close-to-home, flex office space options such as cafes and coworking spaces will certainly increase. It'll be much better if it's all connected, with adjacent food, nightlife, and outdoor leisure options. Progress is an unavoidable reality. You may start a legal battle over it.